The DDI SuperFlex line of aeration diffusers provides world-class USA-made fine-bubble diffusers that can be used in, among others, municipal and industrial aeration applications. Whether you're installing a new aeration system or replacing existing diffusers, our consultative sales teams can provide all options allowing you the confidence for proper materials selection. The DDI SuperFlex line of aeration diffusers service all major brands.
What are the mechanical specification details for the DDI SuperFlex Disc Diffusers?
DISC SIZE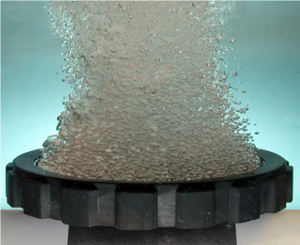 9" diameter (229 mm)
12" diameter (305 mm)
AIR CAPACITY
9" (229 mm) at 0–10 scfm (15.8 Nm3/h)
12" (305 mm) at 0–18 scfm (28.5 Nm3/h)
MOUNT
Saddle Mount or Universal Diffuser Mount (UDM) 3/4" threaded
STRENGTH
Withstands edge load > 600 lbs (270 kg) & Anti-rotation design
BODY MATERIAL
Fiberglass-filled polypropylene, High strength, Chemical resistant, UV resistant, Triple-check valve, High-temp capability over 230°F (110°C),Cold-temp resistant
PIPING
3" low-stress/low-buoyancy force, 4" 90 mm 110 mm, Heavy wall. 3" = SDR 26 0.135" (3.4 mm) wall, 4" = SDR 26 0.173" (4.3 mm) wall. Other pipe sizing options available.
Available pipe material: uPVC, CPVC, PE, PP, Stainless Steel, Composite resin
MEMBRANES
EPDM, PTFE-coated, Silicone, Other polymers available
PERFORATION
MicroPore (fine bubble), MegaPore (high-capacity fine bubble), Custom pore patterns available
PRESSURE LOSSES
4" to 12" (1 to 3 kPa)
Carefully consider all options from disc size through diffuser membrane materials selection. Selecting the correct material will assure successful operational efficiency of diffusers in your application.
Consider speaking with a representative from Dorian Drake International on all the available diffuser specification options.
Dorian Drake International presents it's DDI SuperFlex line of aeration diffusers, membrane diffusers, and specialty diffusers for new and existing municipal and industrial aeration applications.