Threaded Flexible Membrane Fine Bubble Disc Diffusers

Base and ring are constructed of glass-filled polypropylene.
Base unit connection is 3/4-inch male NPT.
Standard disc diffuser membranes are EPDM.
SuperFlex disc diffuser units are available with premium quality EPDM membranes. The diffusers incorporate an external triple-check valve design to prevent intrusion of liquid or solids into the diffuser or air piping under normal on/off operating conditions.
Technical Data for Threaded Disc
Model
Diffuser Type
Peak AirFlow
Design AirFlow
Diffuser Dia.
Active Surface

Area

Scfm
M3N/h
Scfm
M3N/h
In
mm
ft2
m2
01798
9″ Standard
6.0
9.5
0.5 -4
.9-6.8
10.9
277
0.41
0.038
01799
9″ High Capacity
10.0
15.8
1-8
1.7-13.6
10.9
277
0.41
0.038
06078
12″ Standard
10.0
15.8
1-8
1.7-13.6
12.9
328
0.64
0.059
06080
12″ High Capacity
18.0
28.4
2-13
3.4-22.1
12.9
328
0.64
0.059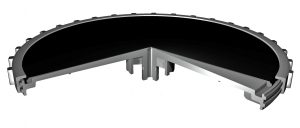 The 9-inch and 12-inch diameter diffusers employ a 3/4-inch diameter NPT (male) threaded connection for ease of installation/maintenance and universal application. Units can be mounted using the universal diffuser mount and are also available with Saddle Mount configuration (as shown), which provides unmatched mechanical strength.
Replacement parts are available for the fine bubble disc and tube type diffusers.
Contact us for more information.
Looking for world-class aeration disc diffusers? Have questions? Contact Dorian Drake International.